Math Mammoth was gracious enough to not only allow the TOS Crew to review their products for free, but they also gave us input as to which product(s) we'd like to review. I believe this is when the angelic choir began to sing in my world! Instead of being forced to rework my math program (again) I was able to pick two supplemental products to help strengthen some weak areas.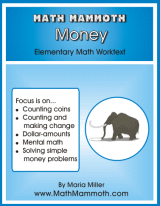 The first product we chose to use is Math Mammoth Money . It has been a GREAT help to us. Olivia needed extra practice with working with money and this downloadable worktext is just the ticket! The lessons start off with basic 1st grade work such as simple counting of coins. Then the student progresses to 2nd grade work and finally to 3rd grade topics. Your student doesn't have to "get it all" at one time, they can work at their own pace and build up their knowledge base and mastery of the subject. Of course, being downloadable, I can reprint as necessary when we run into problem areas that need more reinforcement. This supplemental work text is for grades 1-3 and offers 42 pages of lesson plans for only $3.25!! For my readers in other countries, you'll be happy to know that you can also get this in a Canadian Money Version as well as European Money.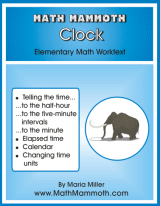 The second product I chose is Math Mammoth Clock. Olivia is already telling time to the hour, half hour and quarter hour. When we started moving to the 5 minutes, she had more trouble (mostly with telling which hour is correct when its something:30+ if that makes any sense at all to you! Again, this product starts with 1st grade level work, progressing to 2nd and 3rd grade. Your child can move as quickly or as slowly as necessary to master the concepts. There are 44 pages of lesson plans included for the low price of $3.50!
Honestly, I wish I'd been a little more selfish in my request of products! However, with the wonderful pricing I'm certain I can find a little wiggle room in the budget if necessary!
Math Mammoth also offers some freebies, 280 worksheets to be exact! To learn more about this awesome deal, click here.
To read the reviews of other Crew members, click here.
Disclosure: This product was provided to our family for free as members of the 2009-2010 Old Schoolhouse Magazine Homeschool Crew. Reviews and opinions expressed in this blog are our own.