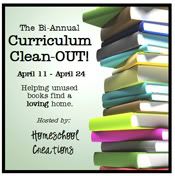 Here is the first (I hope not the only) freebie that I'll have up for grabs during the Big Curriculum Clean Out!
Keep learning alive during the summer! Research shows that short sessions of daily practice help to maintain, and even increase, what has been learned. Daily Summer Activities provides ten weeks of appropriate, teacher-developed practice acitivities and resources to help your child make a successful transition from PreK to Kindergarten.
For a chance or two to win:
1. Leave a comment below.
2. If you already follow my blog, give yourself another entry.
3. Sign up as a new follower, and giver yourself TWO entries!
Remember to post each comment/entry separately. Winner will be announced on April 26, 2010. U.S. residents only please!
Be sure to check out all the other giveaways at the Big Curriculum Clean Out!
Joesette