If you've followed my blog for long, I'm guessing that by now you've noticed all the cool changes around here. If you are new to my blog, let me point out some of the new things to you. Things like the new color scheme, the way cool header and tag line, the oh so lovely labels on the sidebars. And the button, DON'T forget the button, I'm LOVING it! Isn't it greatness? (Feel free to grab one from my sidebar to post on your blog….go ahead, I'll wait while you do that….)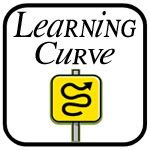 You may be thinking that I've been holding out on you, hiding all this creativity and knowledge. Let me assure you, that is NOT the case. Like I said, it's all relevant, Relevant Designs that is!

Jolanthe of Homeschool Creations, No Ordinary Moments and Totally Tots is now the proud owner/operator of Relevant Designs. Jolanthe's goal is to help mommy bloggers to freshen up their blogs, at a reasonable price.
After a brief question and answer period, Jolanthe whipped up my new elements in a ridiculously small amount of time. I'm totally loving the new look and feel of Learning Curve and I hope that my readers are liking it as well.
So, if you're just itching to get a new look, head over to Relevant Designs and tell them that I sent you. I won't get anything out of it, and it won't save you any money, but at least Jolanthe will know she's getting a bit of exposure over here!