There are many things I want my children to know before they are grown. One thing, that is oh.so.necessary, but rarely focused on in today's "all about me" culture is relationships, and how to make the best of them based on the other person's needs. A Teen's Guide to the 5 Love Languages (How to Understand Yourself and Improve All Your Relationships) by author Gary Chapman is an invaluable resource to help in this area.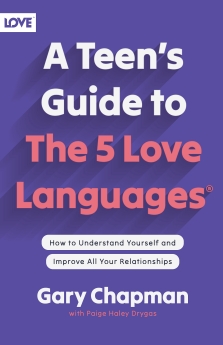 Chapman devotes an entire chapter to each of the love languages (words, time, gifts, service and touch). These first five chapters have information on how to spot the love language of our friends and family, using age appropriate examples and self quizzes to help the reader learn more about themselves as well. At the end of each chapter is a "Pause and Process" page that list 10 or so questions where the reader has to think through what they've read and apply it to the questions asked.
The last five chapters focus on the reader's response to relationships, family and how to handle anger and apologies, there's even a whole chapter explaining about the fact that love is a choice, not just something you "fall in" blindly. The last chapter offers a question and answer format with Dr. Chapman answering some areas that may have not fit in totally in one of the other chapters.
The book itself is pretty self explanatory and easy to read. There are a few black and white graphics and charts sprinkled throughout, as well as quizzes to help identify family and friends' love language, as well as the reader's own language.
I've always been a huge fan of this book series. My husband and I received a copy of the original "Five Love Languages" as a wedding gift and it was a huge help along the way (and I reread it from time to time).
This book would make a great youth group study. "The" topic is mentioned in the chapter on touch, but not in a graphic or embarrassing way, but more of the "this is why you have to be very careful with this expression of love".
My 13 year old read the book and she said it really helped her to understand why some of her friends act the way they do. She also found it very helpful in understanding herself better as she realized her love language. This will be required reading for my younger daughter as well when she hits the early teen years.
About the author:

Gary Chapman, Ph.D., is an author, speaker, and counselor who has a passion for people and helping them form lasting relationships. He is the #1 New York Times bestselling author of The 5 Love Languages® and the director of Marriage and Family Life Consultants, Inc. Gary travels the world presenting seminars and his radio programs air on more than 400 stations. For more information, visit 5lovelanguages.com.
I received a free copy of this book for review purposes. All thoughts and opinions expressed are strictly my own. I was not required to write a positive review, nor did I receive any compensation for my review.