Today I'm sharing our experience in reviewing the
Entire Level II
online art program from
ArtAchieve
. The description for Level II says "moderately easy art lessons that teach beginning art students..." My girls are ages 10 and 13, I think that's a good age range for this particular level.
The
Entire Level II
package contains 14 lessons, and your online membership is good for a full calendar year after purchase. Each lesson features an art project from a different country. By clicking on the "
Art Lessons
" tab (shown in the photo below) you can look at the lessons in each level, and also find corresponding information about supplies needed, suggestions for cross curricular connections (geography, history, writing, literature, music, cooking and science). This allows you to pull together a great unit study to go with your art lesson, if you so desire.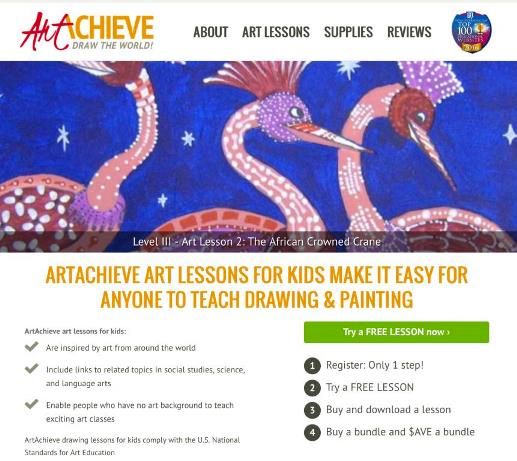 Once you begin your art lesson, you have options as well. You can choose to watch a video lesson, or use the power point slides to teach at your own pace. There are also warm up exercises (some to do with actual drawing, some as finger exercises). In the photo below the girls are working on the warm up exercise for the Swedish Dala horse. This exercise has portions of the drawing in various boxes, and the student copies that portion only into the box directly below it.
For this first lesson (the Dala) we used the video portion of the lesson, pausing it when necessary. While it did show the procedure very well, we didn't care for the video a great deal as we were either having to slow it down, or waiting for it to move one. My mother was staying with us at the time, and she did the lesson with us. Below are the results from a 10, 13, 48 and 67 year old working on the same project. I won't say who did which one, but I thought they all turned out very well.
For our remaining projects, we decided we'd go with the PowerPoint lesson option. This would be a great option if you are teaching a co-op. It gives you the freedom to move quicker through the easier steps or to slow down when needed and wait for your students to complete the step. You of course can also skip ahead a couple of slides to get a sneak peek if you aren't 100% sure if you're doing it right, grins. The average project takes about 20 minutes to draw, and then another 30 or so minutes to color, paint or embellish.
The PowerPoint still walks you through the warm up routines, encourages you to draw silently and to listen to soft music, just as the video. I must admit I enjoy the rub your hands together rapidly until they are warm and then place them on your eyes warm up. I don't know that it relaxes me, but it does help tired eyes, grins..
In theory, based on the video and the PowerPoint, you are supposed to do all of your drawing in permanent marker in order to resist the urge to erase and correct. Um, yeah, in theory that works, in real life, not so much. We drew lightly using our charcoal pencils and then went back over it with the marker. Rebels, that's what we are.
One thing I absolutely LOVE about this program is that it goes in bite sized, easy to complete steps. These steps then build on each other until, before you know it, you've drawn the entire thing, and it actually LOOKS like what it's supposed to look like. This is HUGE for my 10 year old as she is not an overly artistic person and she is usually very discouraged by how her work turns out. That was not the case with ArtAchieve, she even said "Hey, mine really DOES look like it's supposed to." See the smile?
Below are examples of some of the artwork we've created using this program. I've shared these photos on my social media sites and have gotten LOTS of compliments.
To read reviews of other TOS Crew members,
click here
.