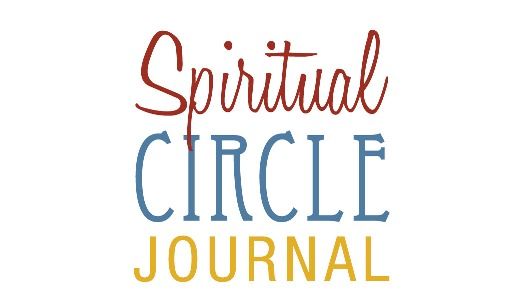 Today's review product is the
Spiritual Circle Journal for Kids and Teens
by
Spiritual Circle Journal
. This spiral bound journal is printed on heavy paper, allowing for creativity with less mess and bleed through. There is a protective, clear page over the front cover that will keep your journal looking neat. The intended age group is 8 years and up, however you could use this with a younger child if you can help them with some prompts and writing; and maybe stretch one page out over several days.
The journal has a built in key to describe what goes in each individual "circle" (although as you can see they are fun, kid friendly shapes not really circles). There are also three pages of instructions that help you see how this type of journaling can lead to a deeper relationship with God as the child personalizes their book. The instruction area is followed by a personal page where the child can write his or her information (age, height etc), favorite things and even a space for a selfie. Next comes a handy sample page, making it easy for the child (and you) to see how the instructions play out on paper. There are a total of 65 journal pages. Lastly, you'll find 16 summary pages that allow the child to revisit things they've journaled about earlier.
I have two girls ages 10 and 13, so I thought I'd do a comparison to see how the different ages like this product. I asked each girl to use one page (pulled from the back of the workbook so as not to mess up page numbers) then tell me what they did and didn't like about it, and also to tell me whether they felt like it would be something they'd use on their own.
Lindsey is 10, and she is the one I expected to really enjoy this product. Surprisingly, I was wrong on that assumption. She said she felt like the various circles asked the same questions, but in different ways, and that confused her. She said she did like coloring the shapes, but if she were using the journal on a regular basis she wouldn't like it. Overall, she didn't care for it a great deal, and said that it would not be something she'd like to incorporate into her Bible time. In defense of the journal, this child is not a big fan of writing, which may have tainted her opinion.
Olivia (pictured above) is 13 and tends to be more introspective and artsy than her sister. She liked that the journal gave her a place to write out her thoughts and to give her a way to tie that into her Bible time. She enjoyed using the various shapes and ended up doodling and coloring more in the journal than her sister did on the page I shared with her. She said she did feel like this would be something that would be beneficial in her Bible time "if I remembered I had it", ahem.
The kids/teens journal costs $15, or two for $26. There is also a bulk rate price for homeschool co-ops! Contact the vendor for more information on the bulk rate.
To read other TOS Crew member reviews,
click here
.