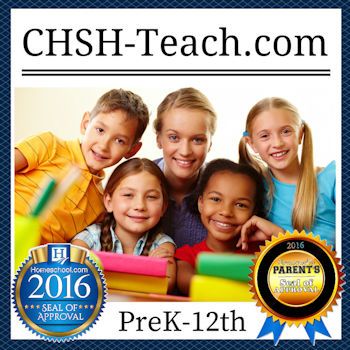 Today I'm sharing our experience reviewing the
CHSH Download Club
annual membership from
CHSH-Teach.com
.
I love reviewing products that can help me in a cross curricular way instead of being subject specific. The annual membership can be purchased for $25, and gives you access to over 50,000 downloads. I'd say that's definitely a cross curricular experience, grins. Membership is automatically renewed annually, (but can be cancelled at any time) and as long as your membership stays current, your price will never increase.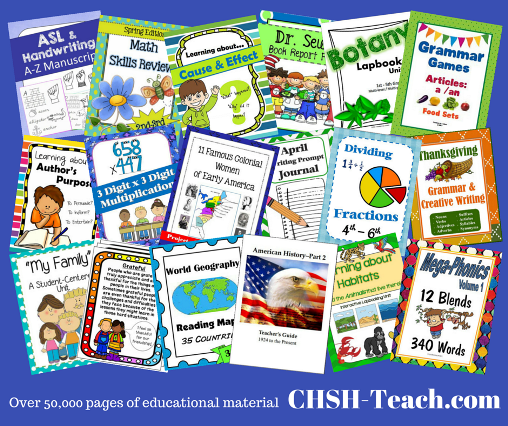 One thing that is
VASTLY
different about this site, from other "printable" sites is that the others all have lovely worksheets and notebooking pages , but this site also offers
FULL CURRICULUM
downloads! That's right, you can download complete subject curriculum and teacher's guides. Subjects that can be downloaded include (but are not limited to) music history, biology, marine science, American history, American Government and high school literature, to name a few. You can even download the literature books to go along with the literature class download. The curriculum packages cover elementary, middle and high school level academics.
We've used downloads a great deal in science already. I've printed out cell diagrams for Olivia's life science program, as well as classification worksheets and a botany unity to enhance Life Science. In 6th grade science, we downloaded the Solar System Banner, printed it out, taped the pages together and tada, a lovely version of the solar system to tuck into our notebook. We're also using other solar system printables to enhance our lessons as we work through astronomy for the year.
My girls and I were really excited to see the selection of ASL printables that are available. We've used these individually, and will also use them with the small co-op we'll be doing starting in September. I've also already downloaded a few curriculum picks for the upcoming school year as well.
There are loads of forum groups available to members. Here you can pick and choose which groups you want to participate in based on your interests and homeschooling methods/needs. There are groups for each of the 50 states, various subjects (science, writing) and homesteading forums to join, to name a few. There are also live video chat rooms within the forums that you can visit and strike up conversation and friendships.
If you are interested in sharing printables, unit studies, videos or other homeschooling helps that you have created, as a site member, you can quickly and easily add those to the site. There's just something fulfilling about knowing that others are able to use your work!
If you're feeling generous, or want to bless another homeschooling family you can purchase gift certificates for $25 for an annual membership. This would be a wonderful way to bless a family just starting the homeschool journey, or who have run into financial hardship and need access to lots of wonderful resources!
To read other TOS Crew members review of this product,
click here.