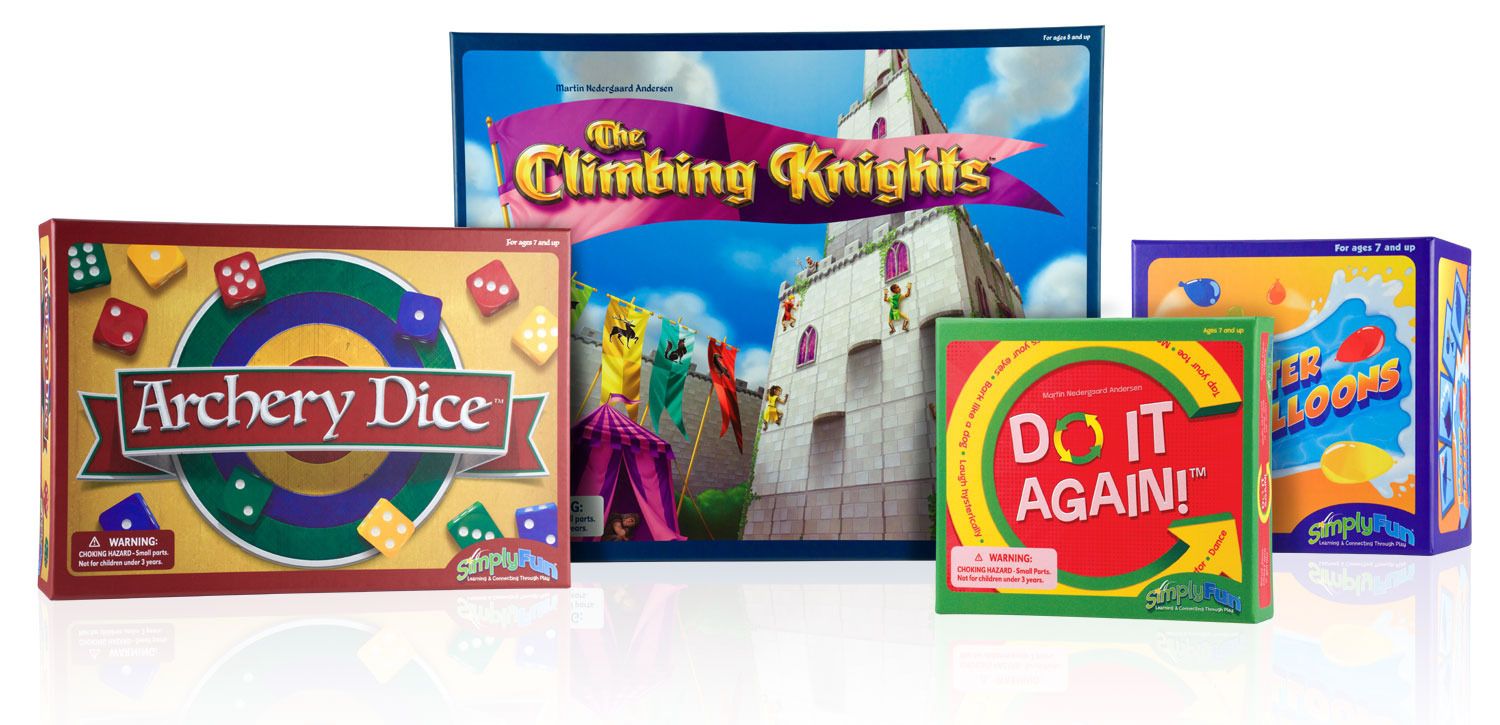 I love reviewing products that are fun for the whole family.
Archery Dice
, which is one of four newly released games from
SimplyFun
, is definitely a fun for the whole family type game. Receiving the game the day before the arrival of a blizzard was perfect timing, as it gave us lots of time to play.
The game has 16 circular targets, 4 sets of colored dice (3 per color) and a matching wooden disc in each of the four colors. This particular game is for ages 7 and up, and is for 2-4 players at a time. Each round can be played in about 15 minutes. The premise of the game is you stack your dice, and take turns flicking them at the targets with your fingers. Landing on the "bulls eye" automatically gives you that target to put in your stash. Landing randomly on the target may or may not mean you get the target, depending on who else lands there or knocks you off.
This game is great for hand eye coordination, depth perception and strategy building skills as you work to knock your opponent off the target, or bounce your playing piece off of theirs onto the target. If, like me, you have a child who doesn't realize her own strength, you may find yourself chasing dice around the floor on occasion, or even ducking as it whizzes by your head, ahem. The good news is that if you happen to lose a die (we didn't), you can easily find replacements in the games section of your local department store.
The full color instruction booklet has diagrams explanations of various plays,but I will say that the instructions were a bit confusing at first. Once we muddled through our first couple of rounds and got familiar with the game a bit more, we began to understand some of the wording and diagrams better. Admittedly, we may or may not have left room for personal interpretation here and there, grins.
My family REALLY liked this game. We played it for four straight hours the first night, and I'm not exaggerating. We finally had to call it quits because we'd ran past the kids bedtime by about an hour, and we were still met with moans of "just one more". I asked everyone for their opinions and both kids absolutely LOVED it, but one pointed out that the instructions needed some work. My husband and I both gave this one a thumbs up as well.
Keep in mind that there are small pieces that could pose a choking hazard for younger siblings and pets, so be proactive in that regard.
Be sure to
read more reviews
about this fun game (and also Climbing Knights) over at the TOS Crew Blog.