Sometimes, reading scripture becomes a complacent act, one where you don't really even see or understand the words. Then there are those times when it's as if God himself shines a spotlight on certain words and you can't help but go on a quest for understanding and revelation.
Guarded By Christ (Knowing the God Who Rescues and Keeps Us)
, by Heather Holleman, is the result of one of those such moments. After encountering Psalm 97:10 that states that God "guards the lives of his faithful ones", Holleman started a journey to understanding being guarded by God.
This 10 chapter book offers personal insight into Heather Holleman's life and spiritual growth as she learns how God guards us in various ways, even from ourselves. Each chapter ends with three to four study questions to help the reader reach a deeper understanding of being "Guarded by Christ". This is both a deep and not deep study, at the same time. It's deep in the sense that it challenges you to go deeper into your understanding of who God is, but at the same time it's doesn't cause you to glaze over.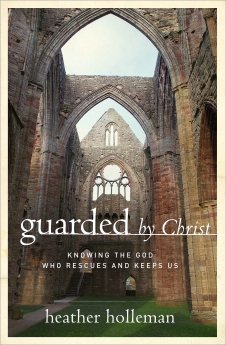 The book is written in an engaging way that allows the reader to see both the personal struggles and triumphs as Holleman shares her heart. The book lends itself easily to individual study, or group Bible study setting.
About the Author:
Heather Holleman, PHD. is a popular speaker, writer,and college instructor. She serves with Faculty Commons (of Cru) alongside her husband, Ashley, executive director of graduate student ministry. She is also a faculty member of Penn State's English Department, teaching Rhetoric and Composition and Advanced Writing. She is the author of
Seated with Christ: Living Freely in a Culture of Comparison
. Heather lives in PA with her husband and two teen daughters and blogs daily at
heatherholleman.com
.
I received a free copy of this book for review purposes. All thoughts and opinions expressed are strictly my own. I was not required to write a positive review, nor did I receive any compensation for my review.