Today's review of
In The Reign of Terror
is produced by one of our favorite vendors,
Heirloom Audio Productions
. This audio drama gives you two and a half hours of non-stop, spine tingling action. Once again the folks at Heirloom Audio Productions have created an amazing collage of history, drama and creativity that leaves the listener mesmerized for the entire two and a half hours. But more importantly the listener picks up on historical facts such as people, places and events without having to work at it.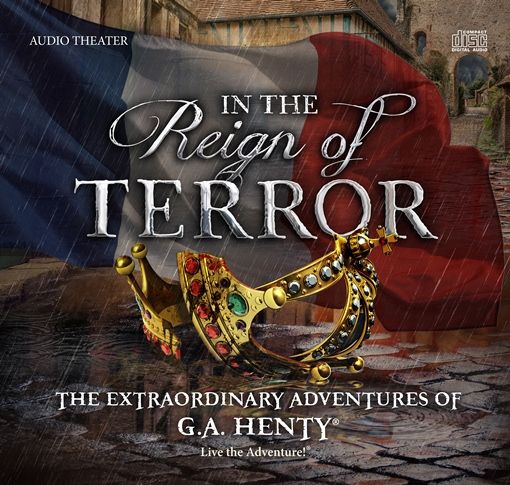 The accompanying (digital) study guide is a wonderful way to delve deeper into the history, characters and vocabulary that are part of this production. There are three components to the study guide. The "Listening Well" portion asks questions to see how well the listener has paid attention, and retained information. Answers to the questions can easily be found by listening to the audio drama again. The "Thinking Further" questions require more thought, critical thinking, a little theorizing and some research to answer. Lastly the "Defining Words" section gives listeners an opportunity to increase their vocabulary. At the beginning of the study guide you'll find biographies of author G.A. Henty, Maximilien Robespierre, and Marie Antoinette.
One thing that I find especially handy is that the study guide is broken up by disc, track and time. This allows you to quickly go to the section of the CD that is being studied. If students are having a hard time remembering information, you can quickly look at the study guide and then use your CD player to pop over to the correct spot. This alleviates the dreaded play, fast forward, rewind loop that can be ever so maddening when searching for something on CD.
At the end of the study guide is a reading list for those who want to continue in their studies of Britain and Rome in the 1st Century, A.D. There are also three brief Bible studies to help the student recognize and better understand the Biblical themes that are woven through the story line. The graphics throughout the study guide are also great visuals to help tie the story line to people and places of old.
Having said all of that, once I said we were getting this product, Olivia began stalking our mailman. The day the package arrived she squealed, ran to her room and began listening immediately. She finally returned 2.5 hours later just as enraptured as she has been by ever audio book by
Heirloom Audio Productions
.
Olivia said that this one is a bit more "graphic" that other audio drama's we've reviewed. Her reason for saying this is that they explain the various ways people were tortured and killed during the Reign of Terror, and she said it can paint a gruesome mental picture. Apparently she's okay with gruesome these days, as she's listened to this production countless times during recent weeks. I'm trying to wrestle this product away from her long enough to hear the whole thing myself. I may have to wait until her next overnight trip, grins.
In addition to the audio dramas and the study guide, you can also join the
Live the Adventure Club
and enjoy kids activities, free educational resources, inspirational posts and an active online community as well. This is an amazing resource that is sure to enhance your family's experience!
To read other Crew member reviews of this product,
click here.